---
THE UNIVERSITY AS CORPORATE CITIZEN
How to Promote Human Rights and Sustainability in Collegiate Licensing,
Procurement and Investment
September 24, 2015 9:30am – 5:30pm
UCONN, STORRS
PCCSR held a forum of experts, professionals, students, and other stakeholders that discussed the challenges and opportunities for colleges and universities to responsibly manage the human rights and environmental impacts of their business operations.
Institutions of higher education have long maintained a core commitment to public service in their research, teaching, and engagement missions. More recently, attention has been devoted to ensuring business operations also align with those commitments and yield positive social and environmental impacts through their licensing, procurement, and investment relationships. This forum is designed to help schools meet that challenge by sharing resources, identifying best practices, and recognizing obstacles to effective results.
---
Schedule:
| | |
| --- | --- |
| 9:30am – 10:00am | Registration and Continental Breakfast |
| 10:00am – 11:45am | Panel: Why Should Colleges and Universities Care about Corporate Citizenship? |
| 12:00pm – 1:00pm | Lunch |
| 1:00pm – 2:15pm | Panel: Achieving Accountability in Licensing and Branding |
| 2:30pm – 3:45pm | Panel: Encouraging Responsibility through Procurement and Sourcing |
| 4:00pm – 5:30pm | Keynote Lecture: Institutional Investment for Human Rights Impact |
---
Speakers included:Heeral Coleman
Director of Stakeholder Services and Communications, Fair Labor Association
Nathan Fleisig
Director of Corporate Social Responsibility, Outerstuff
Kelsey Keene
Manager of Compliance, Colosseum Athletics
Liz Kennedy
Vice President for Corporate Responsibility, Collegiate Licensing Company
Scott Nova
Executive Director, Workers Rights Consortium
---
This event is being sponsored by
---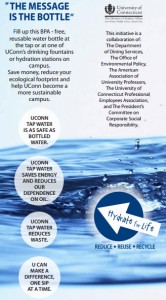 Think Outside the Bottle Initiative & Distribution
Think Outside the Bottle is a new UConn initiative that distributes reusable water bottles to first year students and members of UCPEA, AAUP and AFSCME with the intent of reducing our carbon footprint on campus. By doing this and continuing to install water bottle refill stations around campus, the university hopes to create a more sustainable campus and decrease its impact on the environment. Sponsors of this initiative include the President's Committee on Corporate Social Responsibility, The Office of Environmental Policy – EcoHusky, Dining Services, the UConn Chapter of the American Association of University Professors, the University of Connecticut Professional Employees Association and the American Federation of State, County & Municipal Employees.
For more information about bottled water versus tap water:
https://ecohusky.uconn.edu